Your wedding day is THE day of celebrating the unique bond between you and your partner, and what better way to do that than by making your own wedding rings? At our wedding co-creation workshops, we provide a private, one-of-a-kind experience where you and your partner will craft your own handmade wedding rings from start to finish.
"This was such a unique experience- we can't thank you enough! You were helpful, informative, and supportive throughout the entire process. From initial ideas to final products, you helped us feel confident and proud of our choices. Thank you x1000!" -LM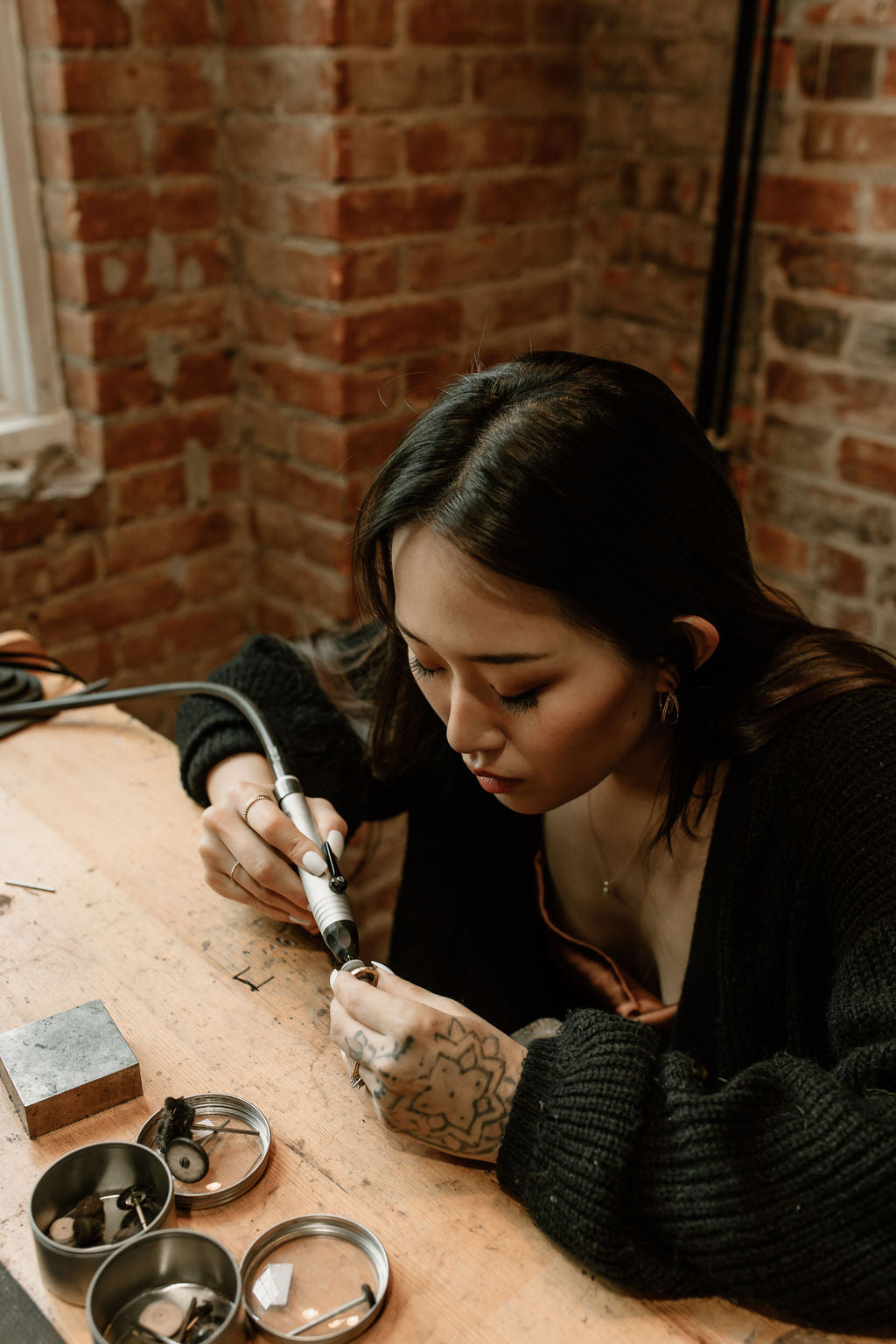 Is this for me?
If you love a hands-on experience and possess a genuine curiosity for the art of craftsmanship. You love supporting your local community, while embarking on a guided experience to learn something new. Crafting your wedding rings is an exceptional and personalized as your love, ensuring it becomes a cherished symbol of your journey together.
Rings to match your love story
Whether you're looking for a custom wedding ring that is comtemporary, minimalist, or truly unique to you, our workshop is the perfect place to bring your vision to life. We specialize in personalized and alternative wedding rings that reflect your individuality and commitment to one another.
Our workshops are a space for you to comfortably create with our guidance to create the rings you envision. Trust the process and the magic unfolds.
Make it yours
C came in to add a personal touch to an element of their wedding that he didn't feel as connected to, coming out on the other side with a personalized token of their love. Made of 18k white gold with a wicked textured pattern on the outside.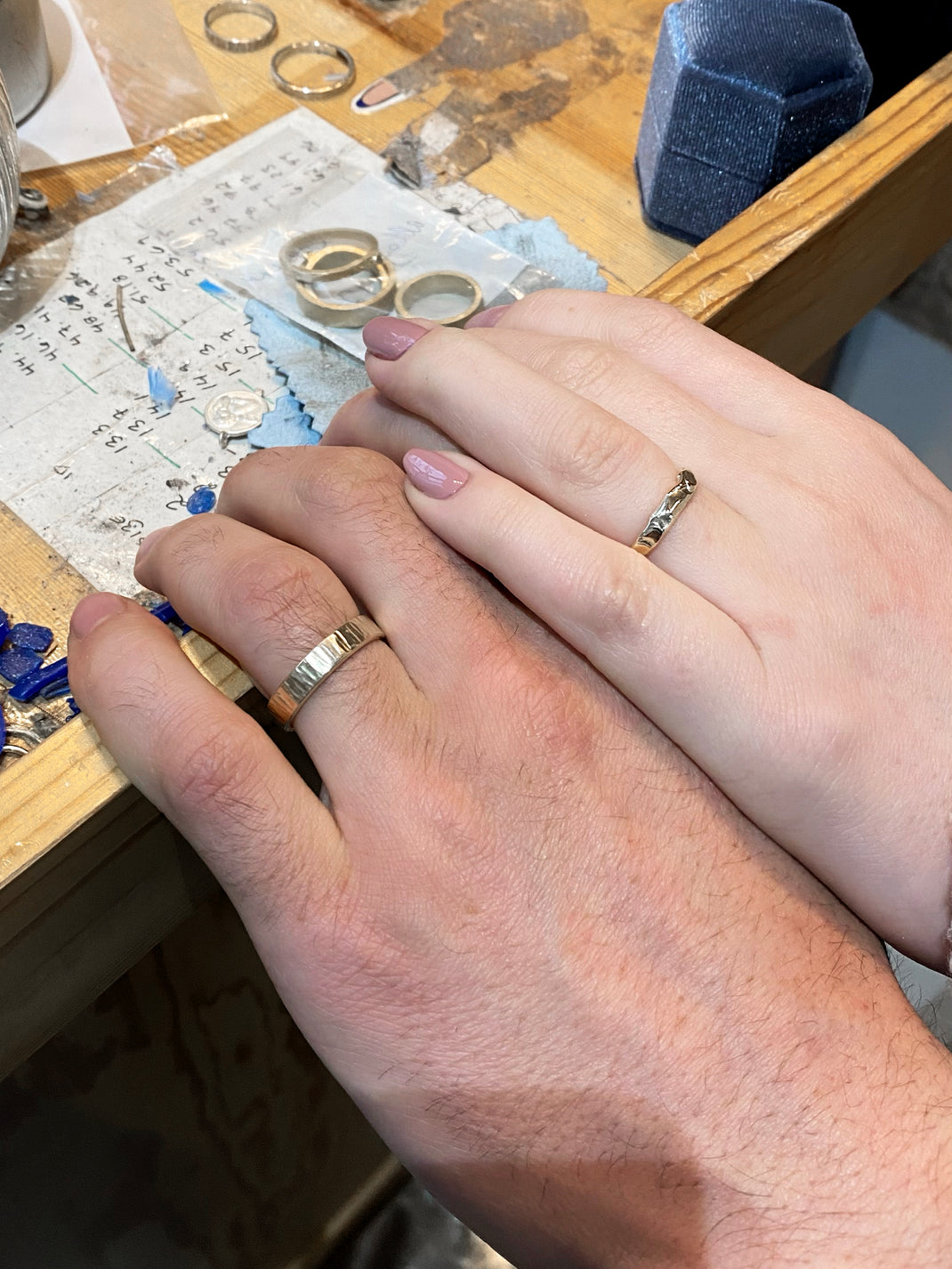 Dual textures
E and A came in and got right to work. Through patience and concentration, they each created rings with gorgeous textures. E with the vertical hammering like tree bark, and A with her molten band.
letting it flow
L was feeling bogged down by the multitude of choices for her ring. We had a meeting prior to their carving session to look through samples and she decided she was going to create a hammered ring, but once she saw her wax carving cast in 14k yellow gold, she wanted to preserve the unique faceted pattern she created through carving her ring as the texture for her ring. We are so proud of her!!
All polished up
W carved up this bold, classic wedding band for their nuptials. Cast in 14k yellow gold with the shiniest polish.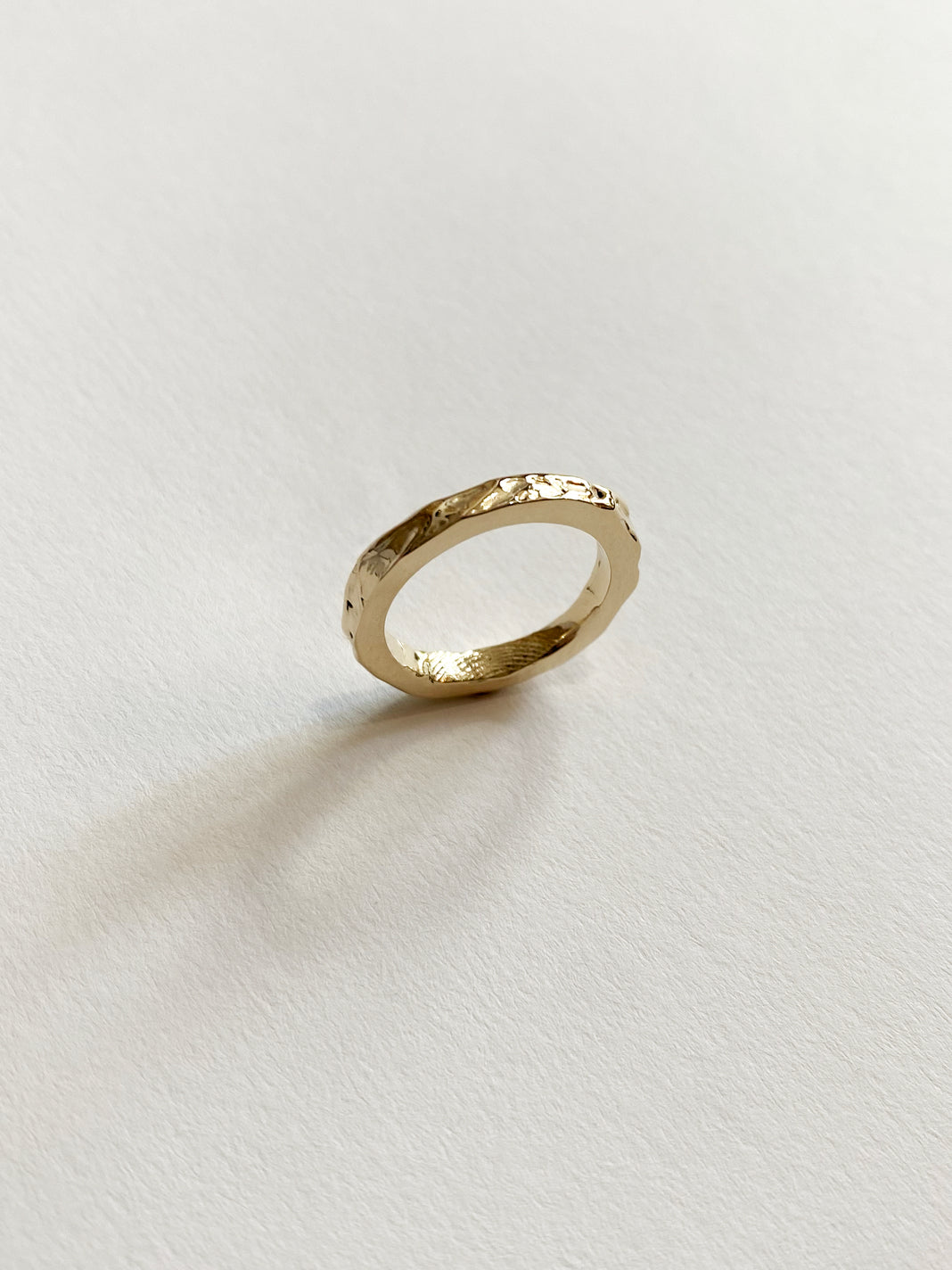 Add Fingerprints
On the spot, R and N decided to immportalize their ring finger fingerprints inside each of their rings, their ring fingers of course. Cast in 10k yellow gold with the unique molten texture she added to the outside of her ring.
Our goldsmithing studio provides a relaxing and supportive environment where you will be guided by Caranina in her creative sanctuary. With over 7 years of goldsmithing experience, you can confidently let her guide you to explore your creativity and create your perfect wedding rings.
Our studio is nestled east of downtown Hamilton, Ontario, Canada. Filled with natural light and exposed brick, we have curated a comfortable and inspiring atmosphere for art workshops, goldsmithing, and handmade jewelry crafting to allow your creativity to shine through. Our artist-led space embodies the vibrant maker culture of Hamilton.
The land of which Hamilton resides are the traditional territories of Anishinabewaki ᐊᓂᔑᓈᐯᐗᑭ, Attiwonderonk (Neutral), Haudenosaunee, Mississauga, and Mississaugas of the Credit First Nation. 
STEP BY STEP
Your workshop experience is divided into two sessions. The first entails carving and shaping your ring out of jeweller's wax with our expertise leading you along the journey. The second session is refining your design and polishing up your rings to perfection. We work at a slow pace, taking each step with care. The intimate experience of creating your wedding rings with your own hands, and we are so honoured to work with couples to add this extra touch to their love story.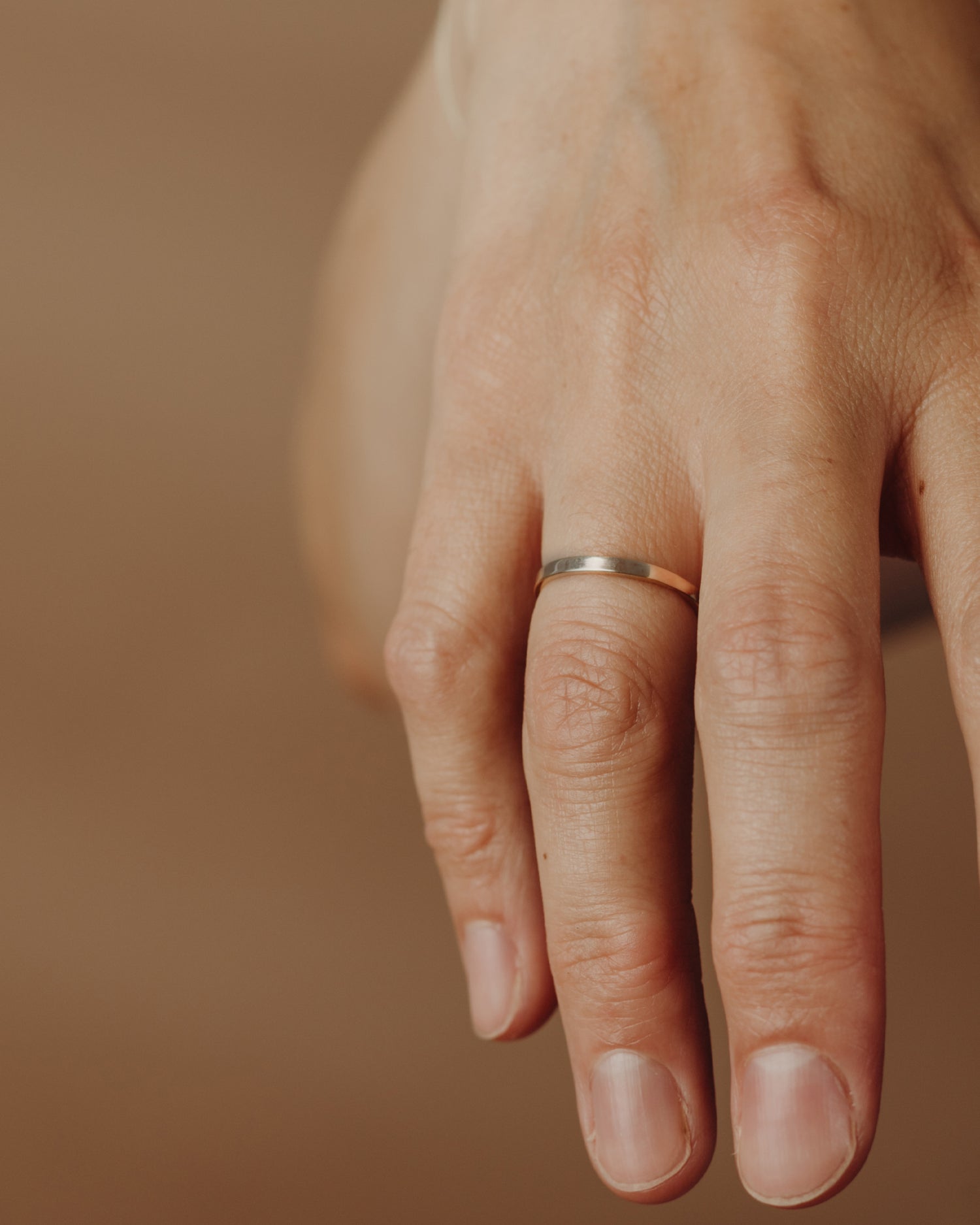 Gold options
We offer 100% recycled gold in a range of colors and carats for your rings, and the option to bring us any sold fine jewelry you may have to be melted down, to add another layer of sentimentality for your rings.
Often asked about
When do we book for?

Planning a wedding is a really exciting time, with a lot of moving parts to be coordinated. Once you have your wedding date solidified, you're welcome to reach out to us to book yourselves into our calendar.

Dates are a first come first serve basis. We book 3 wedding workshops each month. Securing your spot ensures your start date (about four to five months from your wedding date) is saved for you.

Prior to your first session, we will discuss your ring vision so we both are confident in knowing your desired rings are achievable in the workshop.
Do I need to know exactly what I want to make before our first session?

Yes and no. Having a general idea of what you'd like to make is helpful - a simple band vs a textured ring vs something abstract vs something fitted to an engagement ring. Exact measurements will be sorted out through your ring carving process. Ideally you know what kind of metal you'd like your rings made into (white, yellow, or rose gold). We will exchange photos prior to your first session, in the very least, so everyone will be on the same page.
What if my design is too complicated for a wedding ring workshop?

Through our conversations, if we feel that your dream wedding band is unachievable through our workshop setting, we would receommend having us take over the fabrication process. You'd still be involved in co-creating the design, but we will handle all the hands on work to bring your ring into reality.
Do you offer payment plans?

Yes! We take the first payment to lock in your wedding workshop session, and we can split the second and third sessions to cover your metal costs at each of your workshop sessions.
Can we meet before the first workshop session?

We will discuss via email your wedding ring ideas to make sure the wedding ring workshops are a right fit for your vision. If you're really undecided and would love to meet in person, we are happy to book you into our schedule and have you come check out the space and discuss options.
Do i have to come with my partner?

No! This can be a solo venture or an experience for the two of you together. You're welcome to make your own ring - or your partner's - or both (which would just require a bit more studio time). If you're just making your own ring and your partner would like to come hang out and observe the process - they are more than welcome!
Can we book a photographer to come document the sessions?

Of course!! This is such a special thing to do and incorpoate into your wedding and love story. What a great way to keep the memories is to have it documented. We are happy to assist in coordinating dates with your photographer as best as we can.